When you're figuring out how to go vegan, or if you're already a vegan, it can be hard to find easy vegan snacks. So in this list, I'll go over some of my favorite vegan snacks to help you save some time. In case you have some extra time, I've put in a recipe at the end 🙂
Easy Vegan Snacks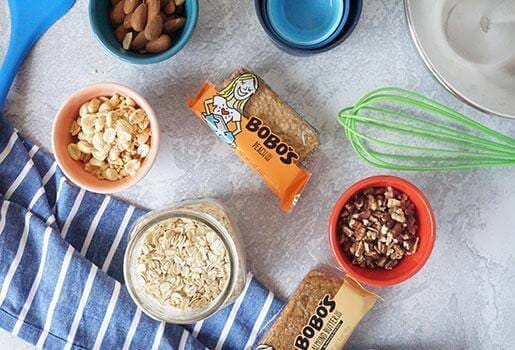 Bobo's mostly makes energy bars out of oats, but they also make a few other types of vegan snacks. They're non-GMO project verified, all of their food is gluten-free and vegan, and the oats they use are organic! My favorite product of theirs is the stuffed oat bars, but everything tastes great! You can buy them here.
180º Snacks make pistachio squares. The squares taste good, and they're healthy! They are made with only four ingredients. The pistachios they use are from California, plus they're non-GMO, vegan, and gluten-free.
You can buy them here.
If you're going to buy a subscription service, this is one of my favorites! VeganCuts curates monthly vegan subscription boxes. They have beauty, makeup, and snack boxes, as well as a vegan marketplace!
I really enjoy the snack box. I always find some awesome new vegan products that I hadn't known about! With the snack box, you receive ten products or so in the box, which makes it a pretty good deal! The other boxes make a fantastic deal as well.
If you want to buy a subscription or a one-time box, click here!
p.s. Use code VEGTEEN for 5 dollars off your order!!!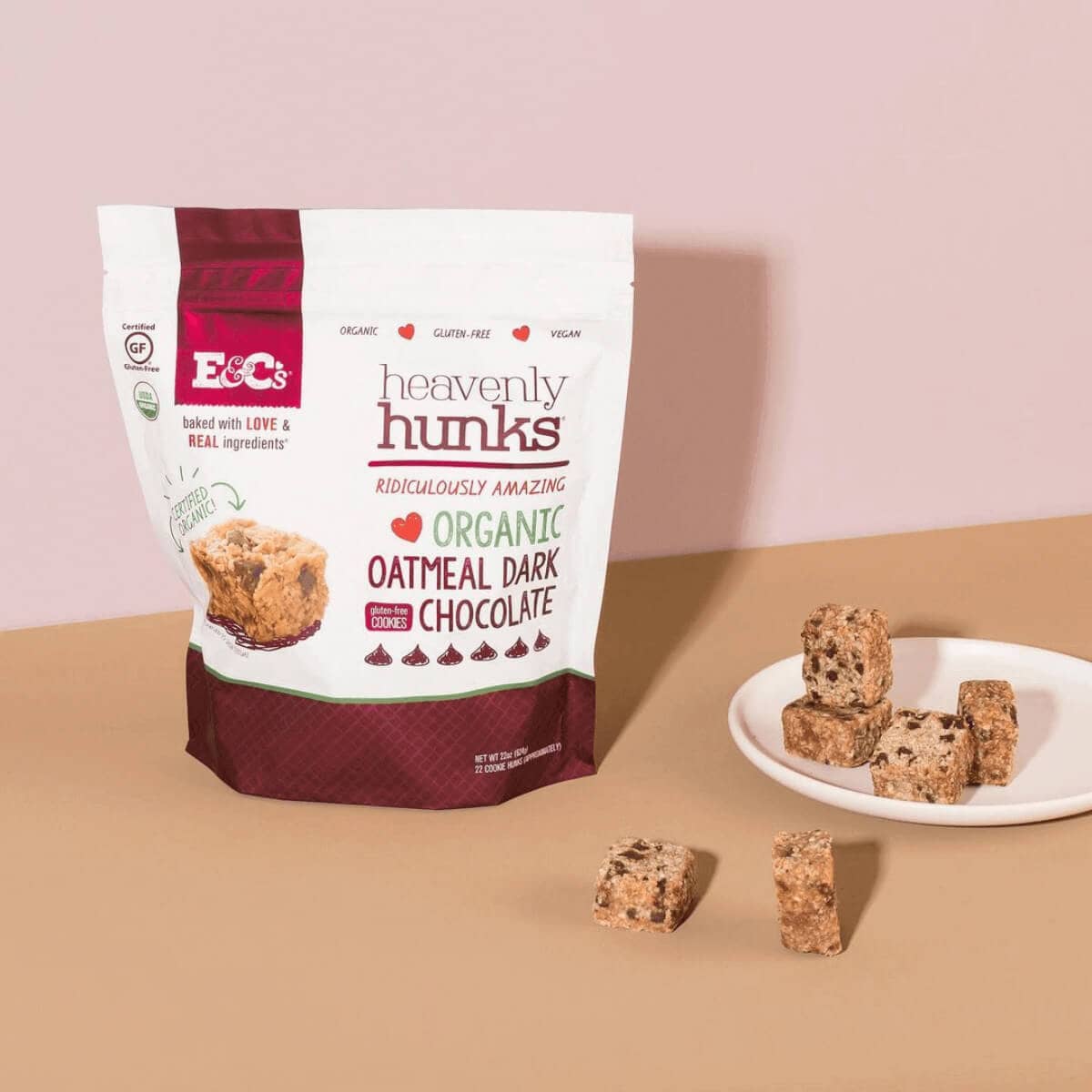 If you need a quick snack to get your energy up, Heavenly Hunks works great. It's all organic, gluten-free, and vegan! They're one of my favorite snacks! As you can see from the photo it's kind of like an oat bar, except it's a cube. It also has a decent amount of protein.
My favorite product of theirs is the Oatmeal Chocolate Chip bites, they taste great!
If you want to buy them, you can buy them on Amazon here or their website here!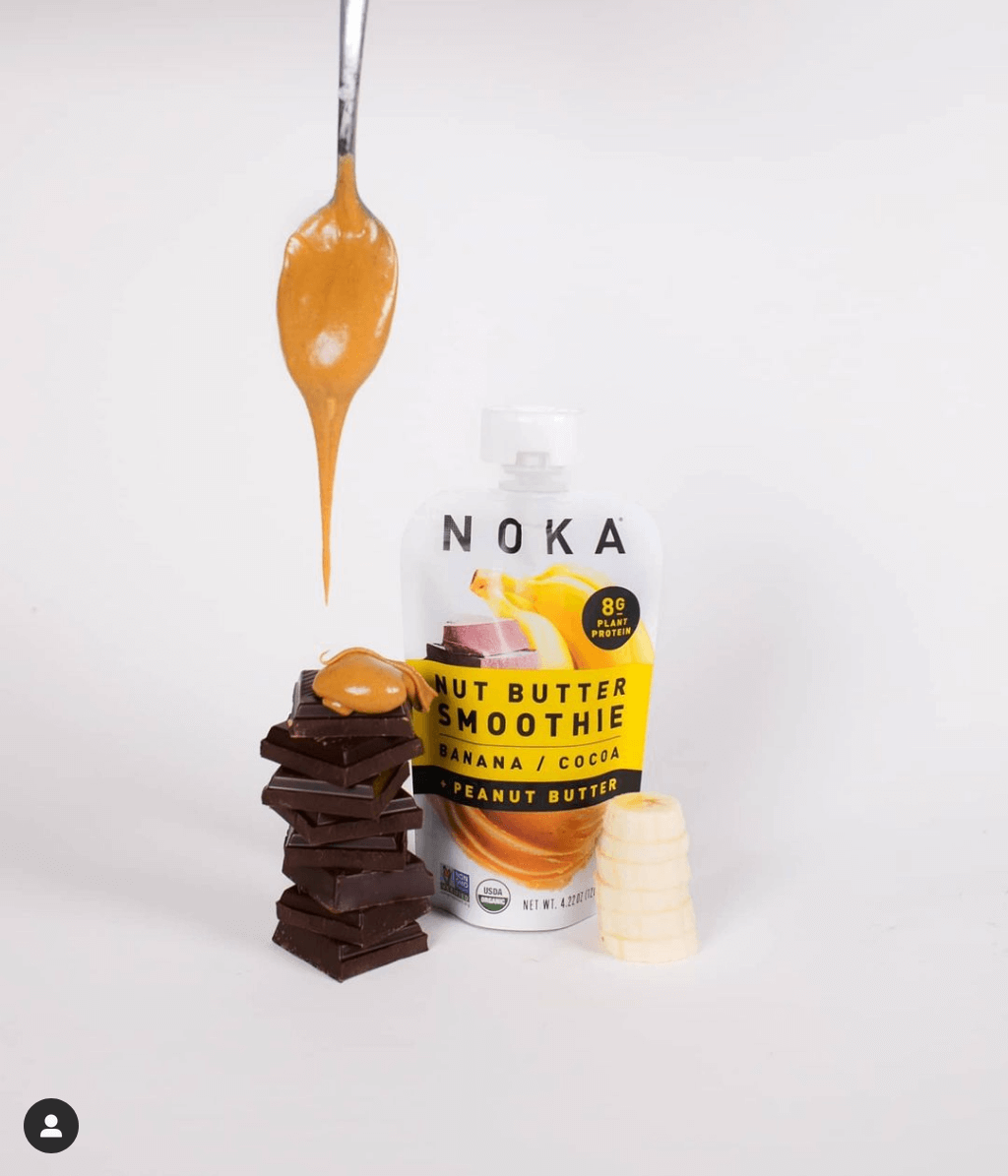 I found Noka at Costco, and I'm glad I did! It's delicious and healthy. Noka makes superfood and nut butter smoothies in a pouch! So far, I've only tried the Banana Cocoa Nut Butter Smoothie ~ it tastes great!
Noka is organic, non-GMO, vegan & gluten-free. It has lots of plant protein, fiber, antioxidants & nutrient-rich superfoods. Plus, their packaging is BPA-free!
You can buy it on their website here and Amazon here.
I found these at Costco too! Brami makes lupini beans, which taste great! The lupini beans only have a few ingredients, like vinegar and salt. They are non-GMO and gluten-free. Each pouch has 7g of protein and 5g of fiber!
In my opinion, this is a great healthy, and easy plant-based snack. If you want to buy it, you can do so on their website here or Amazon here.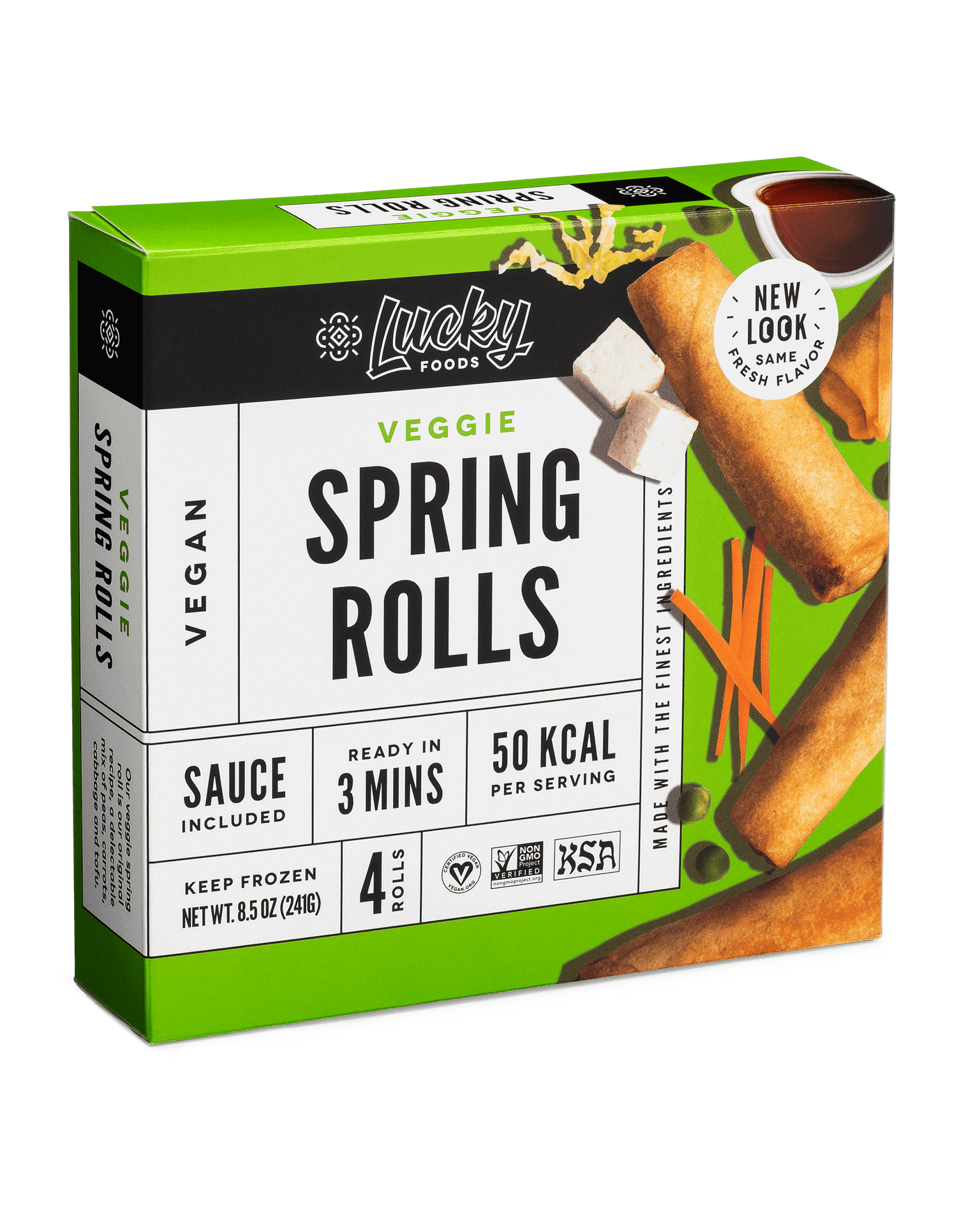 This one is a bit different because you have to heat it for a bit. The spring rolls taste great and only take less than 10 mins to heat up! My favorite flavor is the original/veggie. They're non-GMO, kosher, and certified vegan!
If you want to buy it, click here!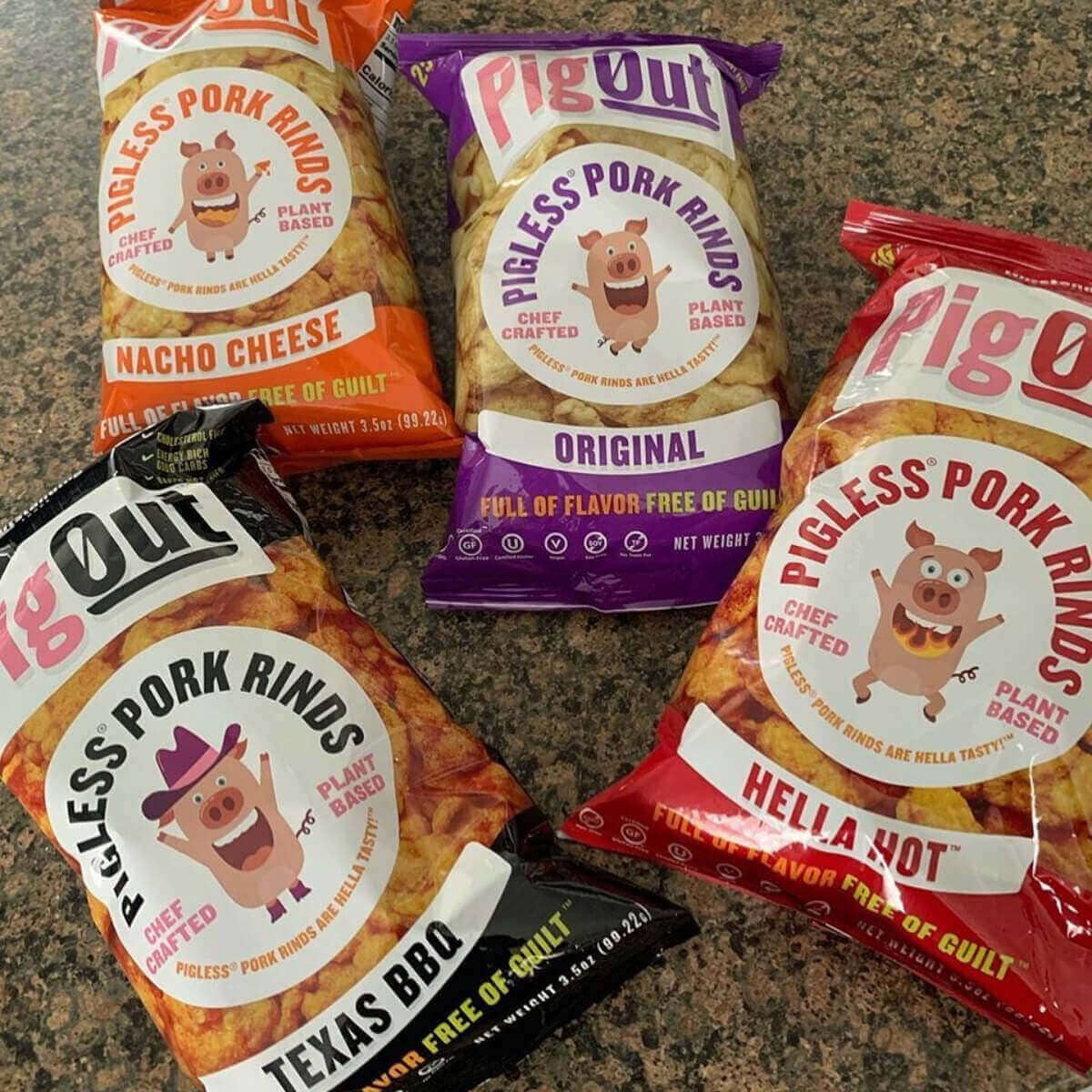 From Chef Dave Anderson, of Madeleine's Restaurant, Beyond Burger, and Real Food Daily fame, comes his latest creation: Pig Out Pigless Pork Rinds and Take Out Meal In-A-Bag Puffs. I've only tried the rinds ~ they're great! Very tasty and easy to eat the whole bag! They claim the puffs have enough protein, 21g, and nutrition that you can eat them instead of a meal! They're non-GMO, gluten-free, vegan, kosher, soy-free, and do not contain trans fat as they are baked, not fried.
You can buy them here on Amazon or on their website.
Iwon has several flavors of protein stix and puffs ~ most are vegan, but two flavors contain milk. They're also organic, non-GMO, gluten-free, kosher, and soy-free. The mesquite bbq stix, sweet dijon stix, and caramelized onion puffs are so good that I have eaten too many of them. I'm taking a break from them right now, but I know I'll be back!
You can buy them on their website here or on Amazon here.
Honorable Mentions:
I used to love these, but I think I ate too many while driving around the country! Now they're not my favorite, but I definitely suggest giving them a try! They saved me more than once from being hangry 🙂
I ate a few too many of these too! But I also got all of my non-vegan friends hooked on them! They are tasty 🙂
They aren't my favorite snack, but a lot of people like them. In my opinion, their original flavor tastes a bit cardboardy. I have tried some other flavors of theirs, and I like the bbq flavor the most!
A Few Make-At-Home Suggestions
Here are a few suggestions for super simple vegan snacks that you can make at home:
Avocado Toast
Nuts and Seeds
Bananas with Almond Butter
Hummus and Vegetables/Chips
Bagel Recipe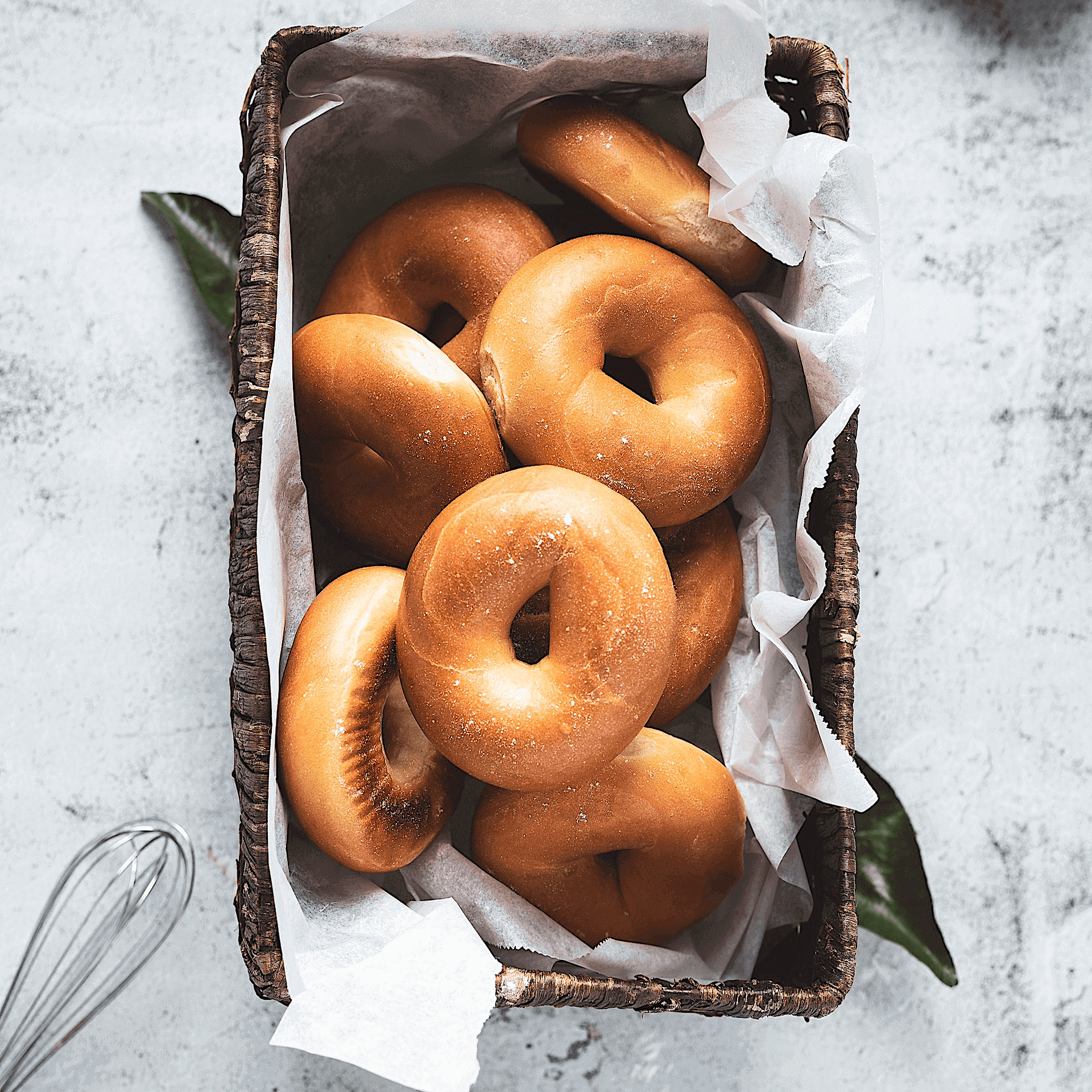 Fast Vegan Bagel Lunch
If you're a vegan teen like me, you definitely need a fast lunch or snack! You've come to the right place. This fast vegan bagel lunch only takes 5 to 10 mins.
Ingredients
1

Bagel

Organic

Vegan Cream Cheese

Organic

3 to 4

Slices

Tofurky Deli Slices

or similar fake meat
Instructions
This next step is optional, though it will make it easier to spread the "cream cheese": toast it to your liking, or until slightly crisp.

Spread a thick layer of the cream cheese you chose on both halves of the bagel.

Put slices of Tofurky deli slices on one half of the bagel. I do 3 to 4 slices.

Try slices of tomato and/or avocado, or any other toppings you like.

Put both sides together and enjoy your fast vegan bagel lunch!
Notes
I recently tried it with IWON organics® protein sticks and it tasted great!
Easy Vegan Ending 😂
Thanks for reading to the end! If this was helpful, please share it with a friend. And let me know what your favorite easy vegan snacks are in the comments below!
p.s. If you're a new vegan, check out my vegan essentials list and my list of the 8 best vegan frozen food brands here!
Or, if you're looking for some great recipes, check out my Simple Vegan Mushroom Crostini recipe here and my Vegan Egg Replacer for Baking recipe here!