Does anyone really have time to make food from scratch, three meals a day, every day? Not so many! So sometimes you're going to want to go out to a restaurant, but you can't really do that right now. You could order a meal delivery service, which I've written about here. Or you could try frozen foods! But there are a lot of those: so here's a list of the 8 best vegan frozen food brands. Enjoy!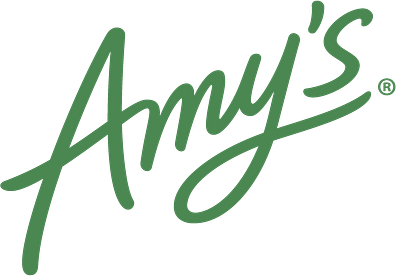 First up, Amy's frozen food! They are a great way to speed up dinner, a snack, or breakfast, and they taste great! I suggest having the Asian Dumplings, Veggie Loaf or Vegan Cheeze Pizza Bites! You can find Amy's in stores here. Or online at Thrive Market or Amazon.
Amy's Frozen pizzas are the best-frozen pizzas, I have found so far, because of their pizza crust. Most frozen pizza crusts have a weird, frankly cardboardy taste. But Amy's frozen pizzas have a pizza crust that tastes similar to a crust you would find at a restaurant, like Double Zero. My favorite Amy's pizzas are their roasted vegetable, no cheese pizza ( I add Violife vegan mozzarella cheese on top!) and their vegan supreme pizza!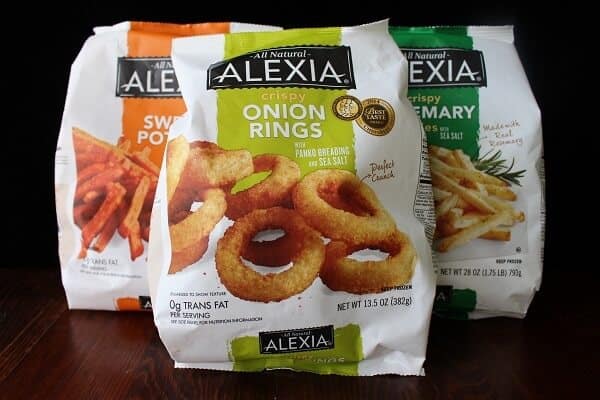 Next on my list is Alexia! Alexia makes frozen fries, onion rings, as well as other snacks. All of it tastes great! I suggest getting the onion rings. You can find Alexia online at Amazon. Or you can go to where to buy and see all of the options for buying online and the in-person locations nearest to you.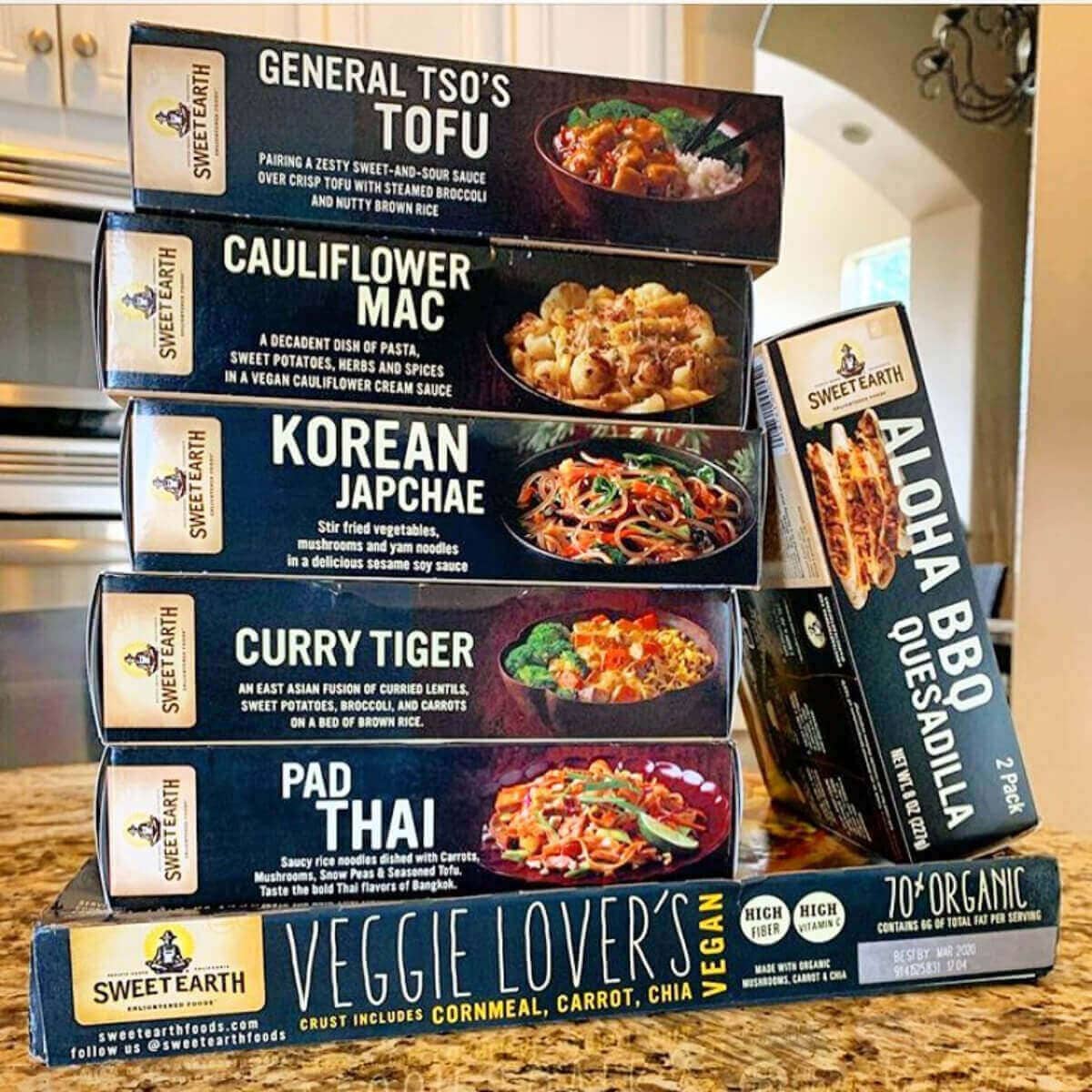 Sweet Earth makes different fake meats, including burgers, breakfast sandwiches, pizzas, and more! The nice thing about Sweet Earth is that their burgers have organic ingredients, are not overly processed, and do not contain the ingredients that some fake meats have that I like to avoid, such as soy protein isolate and GMOs. I suggest the General Tso's Tofu and the Teriyaki Burger, but all of it tastes great!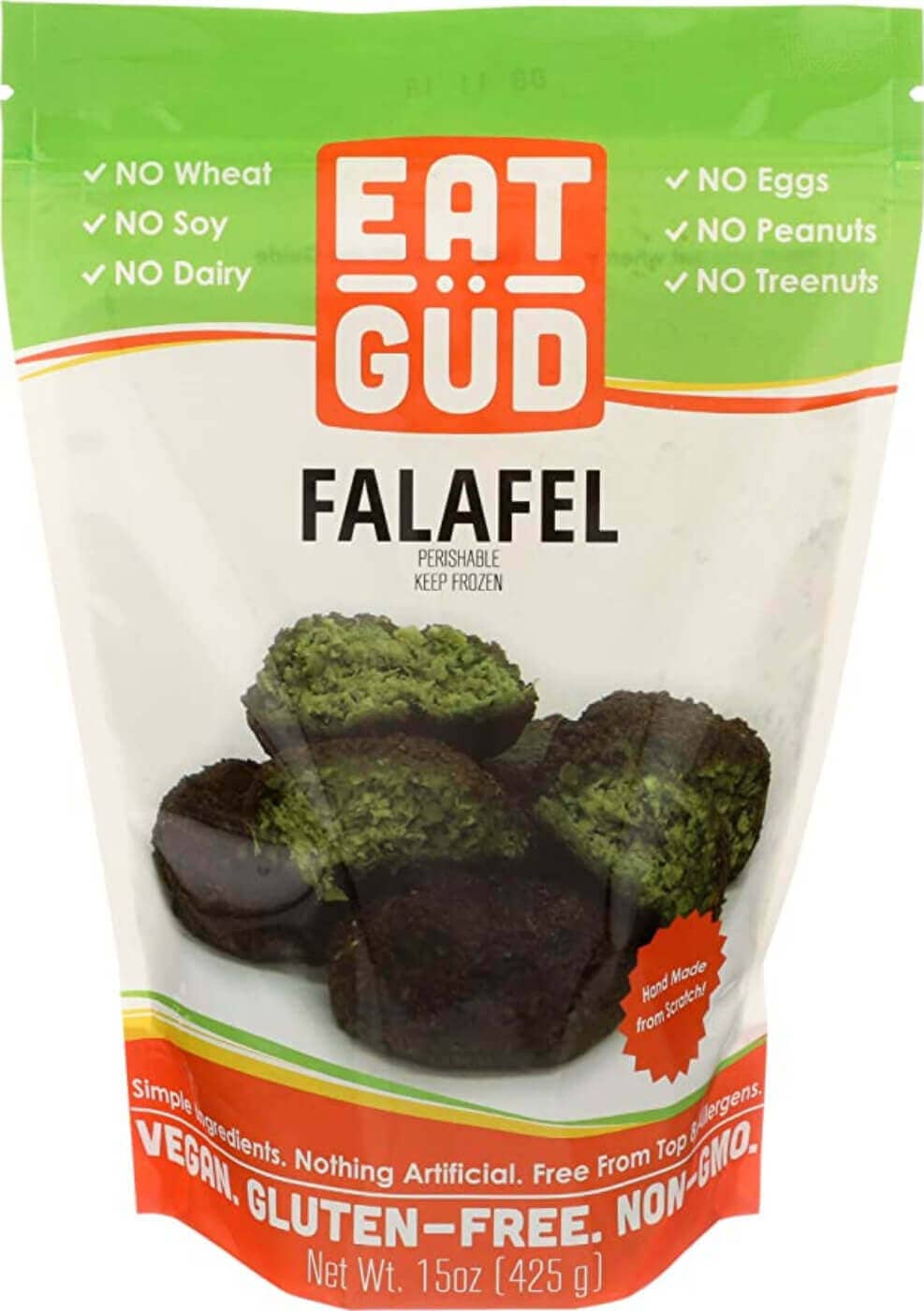 If you're looking for a great tasting falafel that will be ready in minutes. Eat Gud makes great-tasting falafel! You can find it on Amazon here.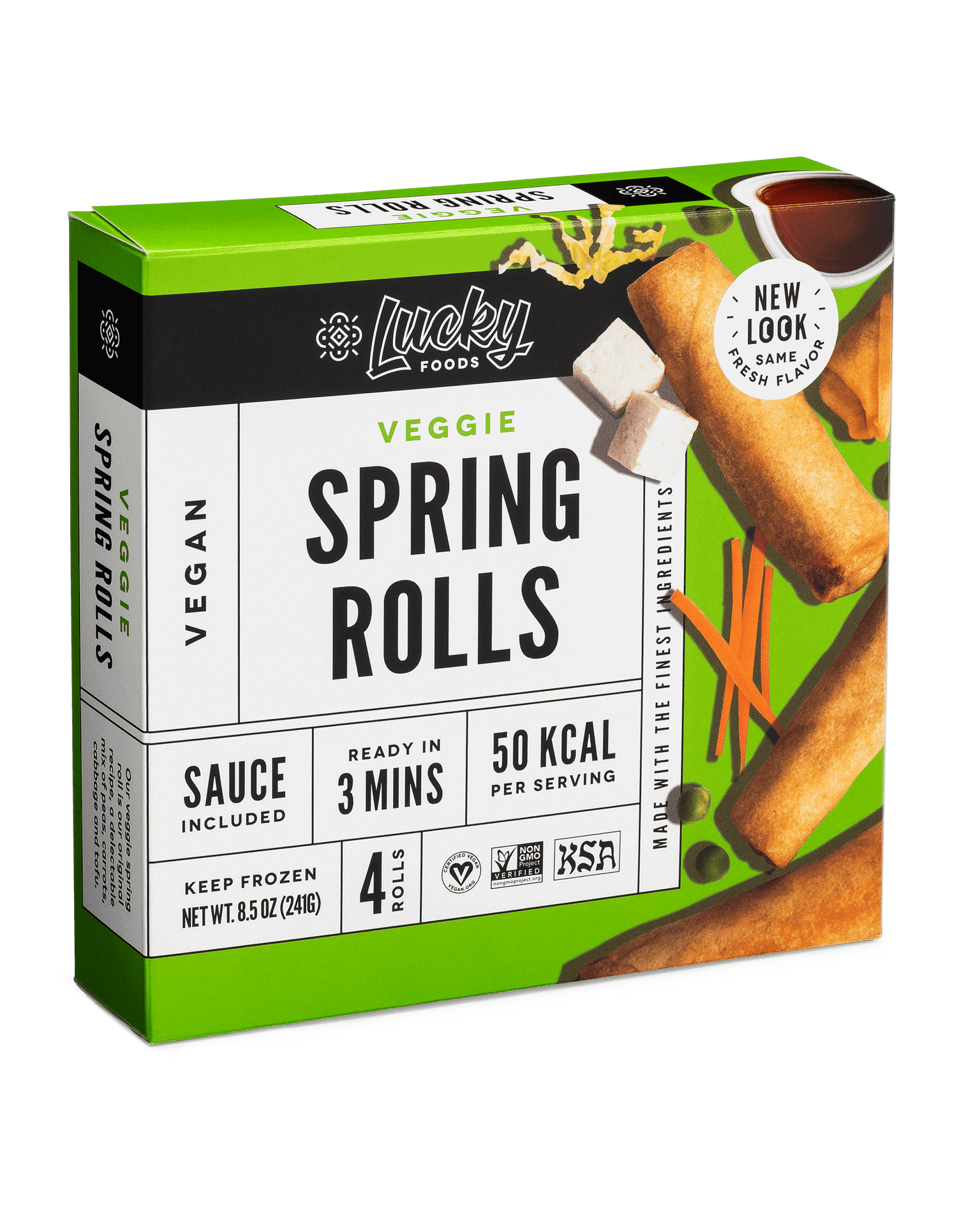 Lucky Foods Spring Rolls are non-GMO, vegan, kosher, and never have msg! They taste great! I've found them at Whole Foods, and you can find them online on Amazon.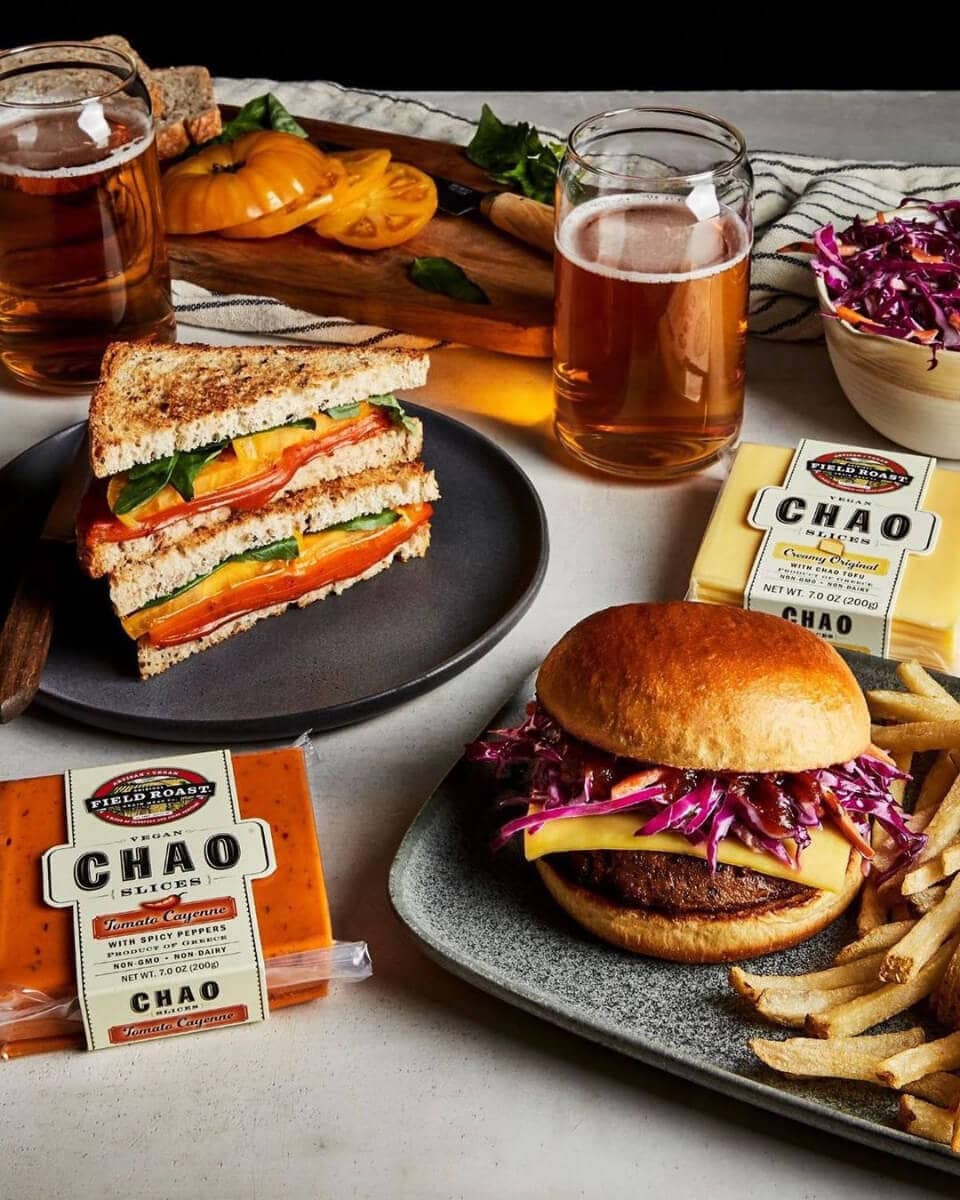 Field Roast has been around since 1997, and is one of the most popular vegan "meat" companies! They have products ranging from Roasts to Miniature Corn Dogs! My favorites are their Frankfurters, Hazelnut Cranberry Roast En Croute, Miniature Corn Dogs, and FieldBurger! They also have a vegan cheese brand, Chao, and all of their products are GMO-free. If you want to check out their products, you can find them on Amazon here, or their store locator here, and you can find them on Vegan Essentials here!
PlantMade launched at the begging of July, so it's a very new brand from Matthew Kenney. They have meals, including Jackfruit Enchiladas, Mac & Cheeze, and Buffalo Cauliflower Bites! I haven't had a chance to try them yet, but if it's anything like the food in his restaurants they'll be great! If you want to buy them, you can do so here, or if you want to look at their website, you can do that here.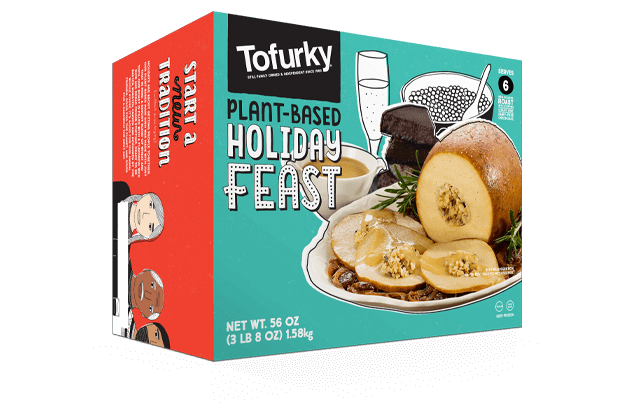 Tofurky is another staple brand in the vegan world that has been around forever! Well, not literally, only since 1980! They make meat alternatives ranging from deli slices to Thanksgiving dinner! I recommend all of it! You can find them at many supermarkets, or here on Amazon. Here's their store locator.
If this list helped you find some great tasting frozen foods to try, please share it on social media, and comment below with your favorite vegan frozen food!
p.s. If you're a new vegan, check out my list of vegan essentials!
p.p.s. By the way, if you click through some of the links on this page (like Amazon or Thrive Market), I get a small percentage of the sale, if you buy something. This comes at no extra cost to you! And it will help me pay for things like the domain, web hosting, or food from restaurants to write restaurant reviews. Thanks in advance for clicking through!